SAHARANEWS – CHAIRMAN of Nigeria's indigenous airline, Air Peace, Barr. Allen Ifechukwu Onyema has disclosed how he organized and facilitated 'one Nigeria bonding' and unity meeting among agitators from the Indigenous People of Biafra (IPOB), Arewa youths, Oodua Peoples Congress (OPC), Miyetti Allah Cattle Breeders Association of Nigeria (MACBAN) and the Concerned Igbo Unity Forum.
Onyema who said he worked for the interest of peace and unity during the height of tension in the country after some northern youths issued a quit notice against Igbo citizens resident in the north, added that his efforts towards initiating peace brought about the needed cohesion that culminated in the eventual annulment of the Igbo quit notice.
Speaking in a recent interview on BBC Igbo Service, the Air Peace boss explained that he needed to calm down the situation, hence his resolve to engage the northern youths who issued the quit notice, using Mohammed Danjuma and other leaders to appeal to the youths.
"I know one of those who called for the quit notice; one of them was Shettima Yerima who was by the side when Abdul-Azeez Ahmed read out the statement(notice).
"I called Shettima on the phone demanding for explanation. I asked him 'what rubbish is this?' and he responded that he was there in order to manage the situation and I told him that something must be done about it.
"As time progresses, I realized that some northern youths has started preparing themselves(for violence). I then pulled a call to Danjuma who was the chairman of Arewa Transformation and Empowerment Initiative(ATEI). These are youths I use to preach peace all over the country," Onyema disclosed in the interview.
Onyema added that when Danjuma and the youths were invited to Abuja for a meeting, they resolved to meet the IPOB leader, Nnamdi Kanu who was then staying at his father's residence in Afara-Ukwu Ibeku, Umuahia, Abia State.
According to Onyema, "I called him(Danjuma) to help rally round and gather those who called for the quit notice and they were invited to Abuja alongside IPOB, OPC officials, and lodged them in a hotel for 5 days. They were 65 in number and I began preaching to them.
"I used my skills on them and there and then, we concluded and agreed that we would go and meet Nnamdi Kanu so that he will soft pedal and calm frayed nerves. So I went with Mohammed Danjuma to meet Nnamdi Kanu but we took permission from presidency before we set out to meet Nnamdi Kanu in Umuahia."
Although the local airline boss did not disclose sensitive details of issues conversed during meeting with the IPOB leader, he, however, noted that Kanu agreed to their offer for a five-day training on non-violence, peace and ethnic harmony organized for agitators from Arewa, Oduduwa(OPC), Biafra(IPOB), the Miyetti Allah Cattle Breeders Association among others by the Foundation for Ethnic Harmony in Nigeria (FEHN) which was held at Limeridge Hotel in Lekki, Lagos State.
"When we arrived Umuahia, Nnamdi Kanu gave us a warm welcome but I wouldn't want to disclose some of the things we discussed in his house for certain reasons but at the end of the meeting, Nnamdi Kanu accepted our proposal to train some of his followers.
"I want(ed) to transform all of them, so that if there's anything that is causing problems or issues, we will have a strategy to tackle such issues in a way to avoid insults or unhealthy confrontations," Onyema noted.
He added that: "Kanu on his part, commended my efforts geared towards restoring peace in the country, particularly how I settled the Niger Delta crisis and said, therefore, he will agree to anything I ask him to do."
Kanu, according to Onyema, swiftly nominated his immediate younger brother, Prince Emmanuel Kanu to lead IPOB agitators to be trained both in Lagos and the United States.
The training which had facilitators from Emory University, Atlanta Georgia, US and representatives of the US consulate in Nigeria in attendance, was followed by a visit of the participants to the US University for continuation of the training on non-violence and ethnic harmony in Nigeria.
Leaders of Indigenous Peoples of Biafra (IPOB), Arewa Transformation and Empowerment Initiative (ATEI), Miyetti Allah Cattle Breeders' Association of Nigeria (MACABAN), Oduduwa Republic, Concerned Igbo Unity Forum, ex-Niger Delta agitators, among other groups were selected to attend the training.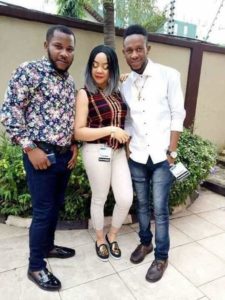 Onyema, the convener of the training, explained that it is worried by the seeming national tension over the agitation by the various groups, saying he is committed to restoring peace to the country.
It could be recalled that at the time of hostilities and destruction of oil installations in the Niger Delta by militants during the regime of late president Umaru Musa Yar'adua and vice president Goodluck Jonathan, Onyema took it upon himself to spend time, money and risked his life for normalcy and peace to prevail in the crisis-ridden region by bringing the Niger Delta militants out of the creeks during the outset of amnesty to douse the tension.
"I wanted to apply the same strategy I used in solving the Niger Delta crisis… so that members of IPOB, Arewa, OPC, including those who issued the Igbo quit notice," He said.
"So, I was among those who facilitated and worked towards the cancellation of the quit notice. I rented the hall at Transcorp Hotel where the withdrawal of the quit notice was announced.
"I also invited some people from the University of Atlanta in America who came down here… I called IPOB members who were led by Kanu's younger brother and I lodged them in a hotel in Lagos with Arewa and OPC for one week and they bonded.
"There's one of the IPOB members lodged in the hotel whose birthday was celebrated by northerners. It was northerners, including one of the leaders of Miyetti Allah that celebrated the birthday of the IPOB agitator at the hotel," Onyema asserted.
Onyema further noted that the IPOB participants exchanged gifts, including clothes with the Arewa group while the latter also reciprocated. Also of note was the presentation of a Fulani cap to Kanu's brother, Prince Emmanuel amidst applause and excitement by the participants.
"One of the leaders of Miyetti Allah, Saliquiba, crowned Kanu's brother with Fulani cap and in return, Kanu's brother gave him an Igbo attire… So as they were exchanging these items, Nigeria was bonding," he posited.
According to a statement by FEHN, which was founded by Onyema, at the end of the training there was incredible display of love and affection among IPOB, the Arewa and the Miyetti Allah. "This was the atmosphere at the closing ceremony of the five-day training programme which, from all indications, has been able to transform the agitators and participants. There was no better time to foster inter-tribal dialogue and collaboration than now when the tension is palpable across the country.
"The calls for secession and self-determination have been growing like a downpour from all corners of the country. From the Biafra, the Oduduwa Republic, the recent Arewa quit notice, Nigeria has never been so divided. It was on this premise that Barr. Allen Onyema, the founder of FEHN and Chairman of Air Peace, deployed his foundation which he used in bringing Niger Delta militants out of the creeks during the outset of amnesty to douse the current tension," the foundation noted.
"During the time of Operation Python Dance(September 2017), they were still there while the army was in Umuahia. The northerners surrounded Kanu's brother and other relatives in solidarity. So we saw them bonding as one Nigeria.
"After all these, they were sent to America. I applied for their visas at the American embassy and they were taken to America for training. Paying the faculty and so many other expenses costed a lot of money which can almost be equated to what I spent evacuating Nigerians from South Africa. But people doesn't know all these things unless they read it," Onyema concluded.
At the end of the five-day training in Lagos, Kanu's brother who spoke on behalf of IPOB at the event, declared that the agitation by the pro-Biafra group has never been about violence but a struggle to seek justice and equity for the Igbo people.
Facing the Hausa/Fulani participants who decorated him with the herdsmen's cap, he said, he now sees their problems as his. "Change is something that is very constant and it is coming into this country", he said.
"Like we have always done, IPOB is a non-violent movement. We want to make it known to the entire world that IPOB is a non-violent movement.
"Nobody is against the unity of Nigeria as a matter of fact. What Nnamdi Kanu is talking about is that he wants you to be a free people and what Nnamdi Kanu is very concerned about is to attack those policies that are affecting us as a people. Of course, you and I will agree that we have got it wrong, the system is completely wrong. We need a new system that would work, we need a new system that would favour everyone in terms of equity and justice for everybody. My message is for people to remain non-violent. Agitation is allowed anywhere in the world," he added in an interview granted to journalists.
However, to Onyema, a new Nigeria is possible. He said the tension and hate speeches emanating from the nooks and crannies of the country cannot stop in one night, but peace is imminent in Nigeria.
"Onyema did the unimaginable. He brought IPOB, Fulani herdsmen and OPC together for good. The purpose and objective of the gathering was achieved at the end of the training: the IPOB, Arewa, Miyetti Allah and Oodua youths embraced each other and declared for one Nigeria. This prophet, decorated by the world, deserves honour in his own country," said a northerner who participated in the programme.